Thank you for your interest in our Facilities.
Our buildings are valuable community assets and many civic
and community groups use them for meetings and events.
We are glad to accommodate these groups whenever we can.
COVID-19 Facility Use Checklist
Prerequisite – Must submit facility usage and insurance information to the proper district personnel.

– You must supply your league rules which also have the latest social distancing guidelines.
– You must adhere to the latest social distancing guidelines.
– You must adhere to the latest mask guidelines.
– You must provide GCS with a detailed plan on how you will adhere to the social distancing guidelines.
– You must provide GCS with a detailed plan on how you will clean and sanitize the area you are using for practices and games.
– You must provide a detailed description of how you will police spectators and parents at your games and practices.
– You are responsible for all cleaning and the policing of athletes and spectators.
– There will be no restrooms available.
– There will be no water available.

Failure to comply will result in the termination of your ability to use the facilities!!
Please click the image below to review the NY State Sports and Recreation Guidelines prior to requesting usage.
+ PLEASE NOTE – FOOD ALLERGY WARNING +
The Primary and Middle Grade Buildings are peanut free areas!!
Absolutely NO peanut products should be brought into the building!!
Thank you.
Reservation requests are now accepted via…

Please click the appropriate graphic below when you're ready to sign in (instructions are below)…
PLEASE NOTE: GCSD requires that requests be submitted at least 5 days prior to the event
and does not accept requests more than 90 days in the future.
* When requesting parking lot usage ONLY, please select 'Parking Lot(s)' for the Site…
* After you've entered your date(s) and times and clicked the View button,
if the space you're requesting doesn't appear on the list, then that space is not available…
* When requesting field usage, please use the designations in the diagram below…
(this view is from BEHIND the high school)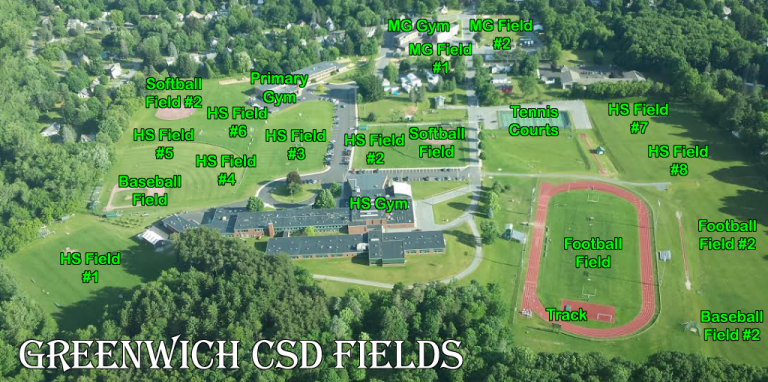 GCSD Staff
GCSD staff should login using their current GCSD email and the password that was emailed to you…
Community Groups
Hi community member, and welcome to ML Schedules™ K12 Facility Request Software.
Community groups should sign in using your existing information if you've previously reserved space
(you should have received an email with a temporary password)
while new groups should click on the 'register for a new account' button above (there's a link to a video to assist you)…
You'll find the software easy to use with online instructions and a Help site
that guides you through the process of setting up an account and requesting spaces at GCSD.

The first step needed to make an online facility use request is to create a user account (if you don't already have one).
Be sure to complete all information fields and then click the submit button.
If your registration was successful you will receive an e-mail confirmation.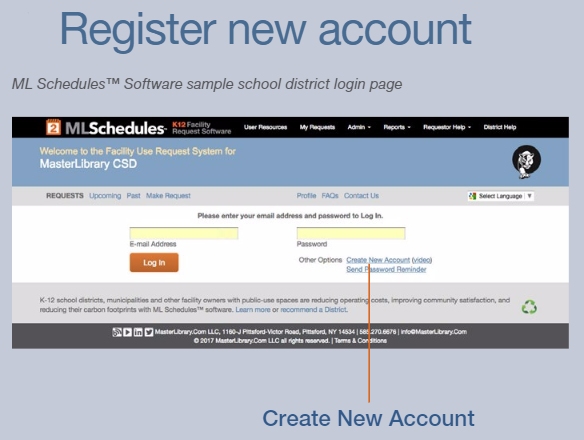 The video at right and link below will provide additional information…
Submitting A Request…
Please watch this 90 second video that will sum up the simple reservation process…