Dear Greenwich School Community. We are contacting you to let you know that our school district will be broadcasting our home varsity and junior varsity basketball games again this year. Unfortunately, the ongoing pandemic is causing us to place limits on the number of spectators we can safely fit into our rather small gymnasium. Currently we are only permitting 2 spectators per player/coach to come into the gym to watch our games in person (each player has been provided two passes which they can give to whomever they would like to come to our home and/or away games to watch in person). Everyone else interested in watching our varsity and jv athletes compete will be able to watch our home games live by going to our district's web site (
www.greenwichcsd.org
) and clicking on the GCSD Live link. When you arrive on the GCSD Live You Tube site, you should click on currently streaming to watch the contest. We hope that broadcasting our home contests will allow everyone interested in following our girls and boys basketball teams the opportunity to do so. We also look forward to the day when we can welcome EVERYONE back into our gym for contests. If you have any questions please either email me or give me a call at 518-692-9542 ext. 6700. Respectfully, Kevin Collins Greenwich Athletic Director

PK-6 Memory Book - Sales start November 15, 2021 to January 14, 2022 Books can be ordered online by visiting our Elementary Website. The online ordering cost will be $15.00 for the book, $1.05 for sales tax, and a $.60 user fee for a total of $16.65. OR You can send in a check made out to Greenwich Central School for $16.05, $15.00 for book and $1.05 sales tax. You must include the student's name and classroom teacher when sending a check.


Mrs. Moore's Duck Duck Goose on a beautiful November morning yesterday!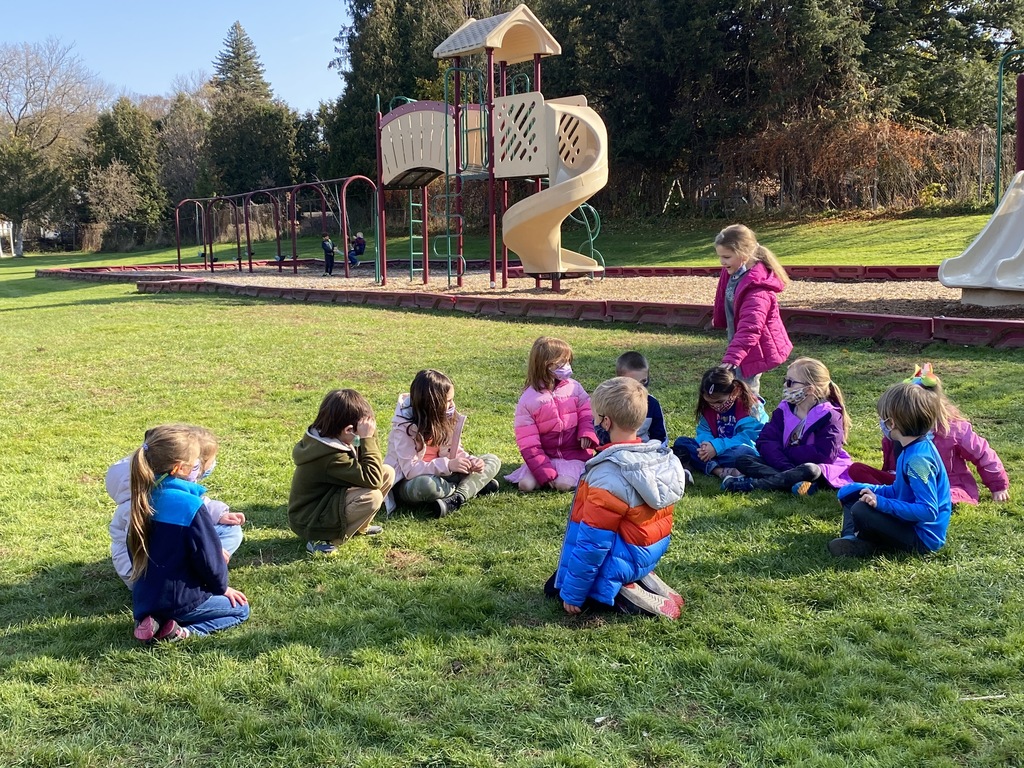 Fundraiser for AnnaBelle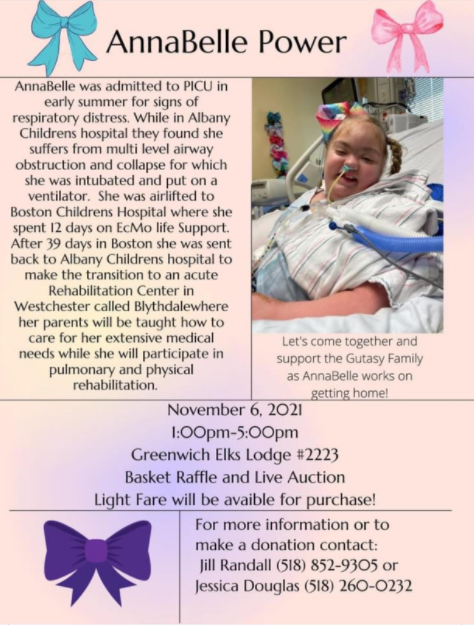 2021 School Safety Excellence Award

PTSA Fall Fundraiser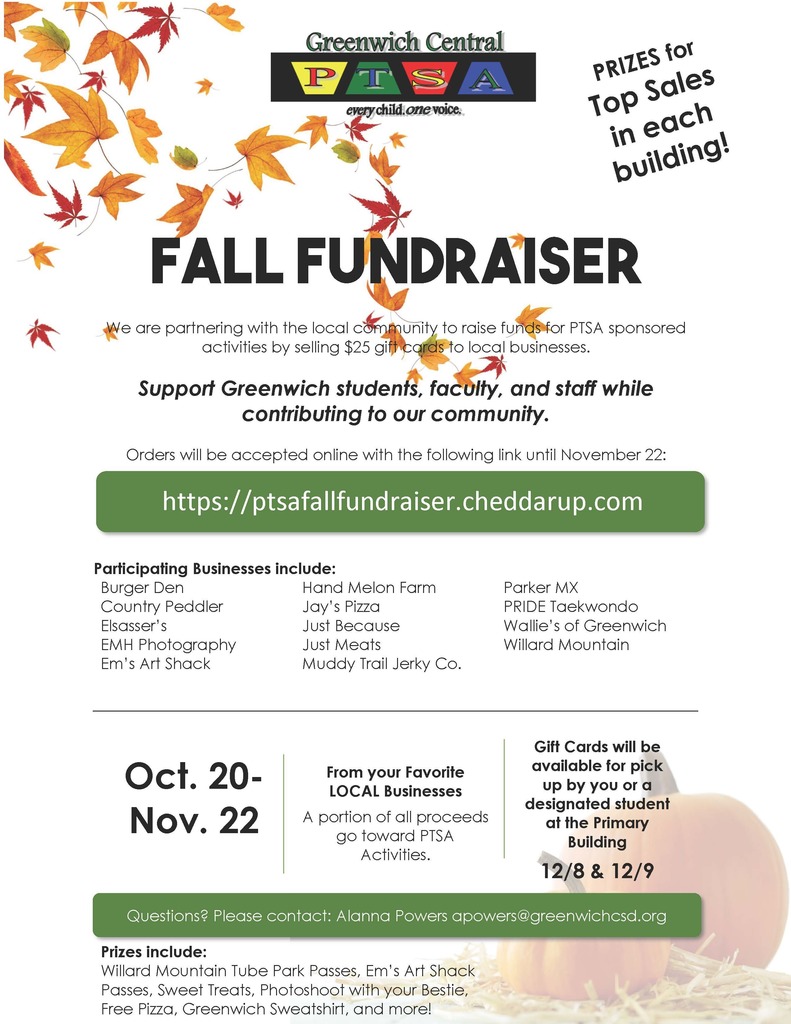 Vacancy - Greenwich Central School has a vacancy for a Head Cook. This is a 10 month position, 5 1/2 hours per day. For further information, contact Ericka Sloan at (518) 692-9542 ext. 6900.

Air Purifier Installation - The top priority of the Greenwich Central School District is to offer a safe and secure environment where students can attend in-person learning 100% of the time. As part of our layered mitigation strategy to reduce, and in some cases eliminate the spread of COVID and the need for contact tracing and county Department of Health quarantine orders, the district purchased and is currently installing Fellows Aeramax air purifiers in classrooms and other spaces throughout the Greenwich Central School District. We expect purifiers to be fully installed by November 24, 2021. The Aeramax Air purifier features true HEPA filter with aerasafe antimicrobial treatment and carbon filter for four-stage filtration process that captures 99.97% of airborne particles, cleaner air, cleaner schools. Protects against viruses Complete germ protection Improved concentration & performances This is the latest action in our ongoing effort to keep our students and staff in school this year. Thank you for your continued support.



Greenwich Central School District has an opening for a part-time (4-hours per day) temporary clerk to coordinate COVID testing. Applications are available online or from Greenwich Central School District Office, 10 Gray Avenue, Greenwich, NY (518) 692-9542 EOE


Help Wanted! The Greenwich Central School District is searching for a school nurse. A current license to practice as an RN required. Applications may be obtained online or from Greenwich Central School District Office, 10 Gray Avenue Greenwich, NY (518) 692-9542 EOE